Dream big and be busy making it happen.
If God didn't wnat us to reach for the stars, He wouldn't give us the power to dream.

2011 is the year of football renaissance. Football gained the limelight again when our national team, the Azkals made a Cinderella win in Vietnam. The Azkals, the underdogs defeated the defending champion, 2-0 on its home stadium. Christ Greatwich scored the goal through a header on 37th minute and Phil Younghusband sealed the fate at the 79th minute. It was pandemonium. It was December 5, 2010.
And it was never the same again. Azkals rose to prominence. They got the media mileage, corporate sponsors came in. Azkals, like the stray dogs were homeless and under supported. The Philippine Football Federation (PFF) management was reformed (the former president Jose Mari Martinez was booted out and replaced by Nonong Araneta).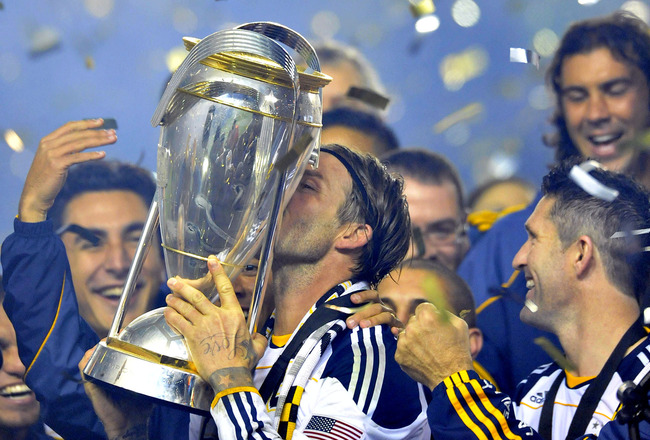 365 days after and the universe conspired. The football superstar David Beckham and his club, the LA Galaxy came to town to play with our boys! Together with Landon Donovan, Robbie Keanne, the 2011 Major League Series (MLS) Champs! Now's that is one hell year-ender.
Adding to this memorable event is, this is David Becks last year with LA Galaxy (and we knew he won several cups in 3 different leagues on his last year of contract with them- Real Madrid (2003) and ManU UEFA Champions League (1998).
Who doesn't know David? The charismatic (sometimes snobbish) football player, Unicef ambassador and father of 4 boys made a stellar career kicking balls with his trademark: Bend it like Beckham. The Becks technique is a top free kick goal scorer. There's even a movie with this title (and I highly recommend it!). A free kick curve technique wherein the ball swerves, like a thunderbolt, the goalie could not see where it'll land.
I've seen this moves several times when he was with Manchester United and Real Madrid and to see this move, and see my childhood love in flesh is once in a lifetime experience.
Last December 3, 2011 it happened. Aptly titled as the Dream Cup, the LA Galaxy faced our Azkals for a friendly match.
At first, I had second thoughts whether to watch it or not. The general admission ticket is quite pricey. P2,000 for blue and green bleachers, P5kfor white and whooping P15k for grandstands! It's Christmastime, expenses started to pile up. Gifts for godchildren, nieces and nephews, some random kids on the list. But I made a bucketlist before and one of the things on my list is to watch any Azkals match live. I failed to watch their game vs. Sri Lanka for the AFC qualifiers. This is a chance. Well, David Becks is a bonus.
Luckily, Ticketworld has an outlet at Abreeza Mall. I bought the tickets after I watched the Pupil gig. They say never decide when you are happy or mad. I was so enthusiastic meeting Ely Buendia personally and I said to myself, Life is too short. And I'll never know when I'll be able to see David Becks. Rumors say he'll transfer to Paris Saint-Germain. We'll never know when he will retire. He had suffered several injuries already. I want to grad this opportunity.
Pikit-mata, buwis-buhay, ika nga! Wagas na wagas na pag-ibig! ahahaha
Since I had a business appointment in Makati within the week, I extended my stay. I was able to meet my mom, uncle and attend the 17th Annual Pride March too!
I had to watch the game solo. My football buddies Nina, faith, Maybelle and Anna could not make it. Conflict of sked, expensive ticket. But nothing could stop the fangirl in me.
I searched for directions online going to Rizal Memorial Stadium (RMS). Withstanding the fact, that I don't have a sense of direction. Dora lakwatsera na hindi alam ang direksiyon, kakaiba di ba?! haha! As Beatles sang, I get by with a little help from my friends. Tin-tin decided to meet me and accompany me to RMS.
The line outside started as early as 4:30PM, But it was 5:00PM that the gates opened. Next to me in line are two cool moms whose kids play football. They got their tickets as complimentary for their kids football clinic. They were amazed when they learned I came from Davao.. we were annoyed with the guards at the entrance. They didn't give clear instructions. At first they told us to form two lines- females in lfet, male in right only to be switched midway inside and to form two lines each for each sex. It was like a scene in a cotillion dance. It was nice to look at if it's a small audience but with a line up to La Salle, this is no laughing matter. Sweat, soft drizzle and no umbrellas allowed inside mase some irritated. Even bottled waters are not allowed. Part of the sponsorship deals of food stalls inside.
After seeing my assigned seat, I looked around. The Kaholeros were practicing their cheers. Ushers in pink were busy helping fans look for their seats. Then I saw two girls with face paints of Philippine flag and Azkals. I was jealous, of course. So I went out again, look at the booths outside and the face paint was offered by Smarth. You just buy a load,you got to get freebies of your choice- vuvuzelas that don't work, balloon clapper and/or face paint.
I fell into line. Another girl's face was being painted. She looked up and smiled. Then she asked me, "Di ba taga UP Min ka?" I nodded. "Ngano te, Bisaya'g nawong jud ba ko?", I asked her. Welaughed together. Her face is familiar. I know she's an upperclass. Then we introduced ourselves. She's Ate Richie Ross Rellama, an Architecture upperclass. It turned out she's going solo too as her boyfriend went home to Davao.
I accompanied her to find her seat at the blue bleachers, only to fin out that she was seated just behind me! Talk about destiny of fellow futbol enthusiast! Our seat is just behind the Phil. Goal post. Ate RR would like to change seats. "we should find a seat perpendicular to the field to have a better view." As an architect, I trust her calculation, of course. So many seats were not yet filled especially the seats near the white bleachers. We went here and if the ushers would found out, we will just smile and go back to our assigned seats. She went there first to check. All clear. I followed. It was a better view indeed.
The LA Galaxy players were already limbering. Our eyes immediately scanned for the blonde-haired man with a thin headband. There he was stretching, passing balls with Frankie Hedjul, Robbie and Landon. Then he went at the corner (near our area) and the mothers next to us shrieked, even louder than us! After several minutes, the show started.

LA Galaxy Line up:
GOALKEEPERS (3) – Donovan Ricketts
DEFENDERS (8) – Gregg Berhalter, A.J. DeLaGarza, Todd Dunivant, Sean Franklin, Omar Gonzalez, Frankie Hejduk, Dasan Robinson, Ryan Thomas
MIDFIELDERS (12) – David Beckham, Chris Birchall, Paolo Cardozo, Landon Donovan, Hector Jimenez, Bryan Jordan, Juninho, Dan Keat, Jovan Kirovski, Mike Magee, Dustin McCarty, Michael Stephens
FORWARDS (4) – Adam Cristman, Robbie Keane, Miguel Lopez, Jack McBean
Azkals first LINE UP:
Rob Gier, Anton del Rosario, James Younghusband, Manny Ott, Phil Younghusband, Angel Guirado, Chieffy Caligdong (Captain), Chris Greatwich, Ed Sacapano (GK), Jason Sabio, Ray Johnsson
Substitutes: Joshua Beloya, Roel Gener, Misagh Bahadoran, Carli de Murga, Nate Burkey, OJ Clarino, Jason de Jong,Nestor Margarse, Paolo Pascual, Ian Araneta, Lexton Moy and Matthew Uy
FIFA flag entered. , our national anthem was played.
The LA Galaxy started to pass the ball, Azkals took defensive position. I stood near the railing. Someone called my name. I screamed. Another shout for my name. I looked around. Watched the field again. "May Cheeeeeee!" And someone waved. Deo Onda! A fellow UP student council officer way back in college, a goalie and a friend. And he's watching solo too! I introduced him to Ate RR. Three Hans solo turned into groupie!
The three of us watched ht show with keen interest. Azkals showed great potential at the first half . David Becks scored at 19th minute. We cheered! Yes, we are traitors! Haha. Then Adam Christman made a goal. Phil Younghusband inspired, tackled the ball curled in a shot (the lone goal for the night for our team).
The UP Pep Squad provided entertainment on the half-time break.
Second half commenced. You know David Becks charm went beyond his sexy bod and strong legs. He is just David B. Every corner he went, the crowd just went ballistic!
Second half is no match for the Azkals. LA Galaxy players were just too fast, smooth ball passing, you weren't able to catch their goals.
For the game highlights, I'll let the this video do the talking:
It was 6-1. LA Galaxy had a friendly match with powerhouse Indonesia (1-0). But David Bcks was very impressed with our team. Our team's newly gained strength is an inspiration to him. He was starstucked with our People's Champ Manny Pacquaio too. After his substitution on the second half, he took off his shirt and gave it to Manny. But Jinkee yanked it off and wiped Beck's jersey on her belofied face! Darn! She's just lucky she's too far, or else, the fandom will you know..hahaha!
The crowd started to leave after the players made their round, but Ate RR nudged us to go at the back. She wouldn't sleep if she can't get a closer glipse of David B. Binoculars during the game was irrelevant. So we went. We brushed aside other fans, took chairs to stand on and waited. Adam Christman (2 goals), was just walking to and fro to their bus (unlike other Galaxy players who always walk with escorts).
The burly event security were lined up up to the Galaxy bus. Frankie went out first. Then Landon. Then a tall guy wearing blue Adidas sweat pants and jacket and a bonnet. Swhoooosh! It just seems like a flash. David Beckham, yumminess! Arrrgggh!
Then I went outside and looked for Deo. Deo was standing at the gates pole. I took the place near him and watched David B mobbed by some giggling young girls (daughters of some PSC commissioners, perhaps?), then he went with their manager to the van before climbing their bus. Take the seat near the window please, we muttered under our breath. He listened. He smiled, waved. Fans continue to wave and shriek. Fans adoration is not new for him, that's for sure. But he continued to wave. Then some fo the Azkal boys came out. Manny Ott was adorable. Ian, Chieffy and Jason Sabio came after. Ian continued to sign autographs at the Azkals bus. It's already 11;30PM yet the crowd is still with high energy.
The three of us decided to call it a night. We walked outside the RMs gate, then some basketball players went out and asked us about the scores. "6-1", I answered. They laughed. Oh! We lost but we gained so much. We expected that. And we don't care, okay? Our team is in high spirits. David Becks, Landon Donovan and Robbie Keane believed in our potentials. And that's what is more important.

Football is not a fad
. It is here to stay. And Brazil for 2014 World Cup, we will conquer. Dreams do come true after all! =)